Date: 7:30 – 9:00 pm, 05-Apr-2013
Cost: Meetings are Free to members, Guests $5 – Students with ID $2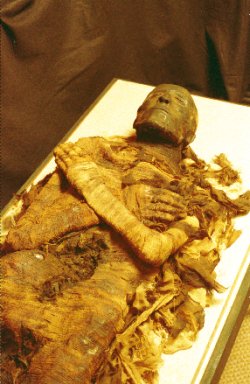 Description:
Dentists practised in ancient Egypt from at least as early as the Old Kingdom and developed a variety of treatments for toothaches, including the application of the still-warm body of a dead mouse to the offending tooth! But many of their treatments were ineffective: tooth decay is the most common pathological condition observed in ancient Egyptian skeletons, and medical papyri indicate that the resulting bad breath was a frequent complaint. Indeed, while the majority of individuals lost only their teeth to advanced dental decay, others may have lost their lives.
This talk will describe cases of severe tooth decay and other diseases of the teeth and jaws (such as "tartar" build-up and temporomandibular joint arthritis) that were prevalent in ancient Egyptian populations and will discuss these conditions in the context of food preparation and consumption. Particular attention will be paid to the Predynastic period and to the early stages of social stratification. In addition, a case will be described in which her teeth tell us that a woman at Mendes probably used her teeth as "tools" in the preparation of reeds for the construction of mats, baskets, or possibly coffins.
About the speaker:
Nancy Lovell joined the faculty of the Department of Anthropology at the University of Alberta in 1988, with four seasons of field experience at sites of the Indus Valley Civilization. But, after making her first trip to Egypt in 1989, she began bioarchaeological research on ancient Egyptians. In addition to directing the excavation of a Graeco-Roman period cemetery at Mendes during the 1990s, she has examined predynastic and archaic period human skeletons that were excavated by Petrie, Reisner, and other archaeological luminaries and that are now curated at museums and universities around the world. Her main research interests lie in the health of ancient Egyptians, particularly in the context of their social-cultural and physical environments.
Location:
Room EDC 287 in the Education Block at the University of Calgary.